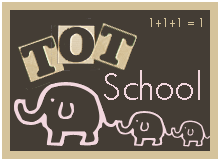 Bella is 24 months old!!
We missed posting the last few weeks so we have a lot of catching up to do.
Of course Bella had her 2nd birthday!
Playing with the new name puzzle she got.

Painting her hands and feet to put on her closet door in her new room.
Playing with the Melissa & Doug See & Spell.
Of course she had to tell me where her sock was.
She loved her new foam alphabet letters for the bathtub. They hid in the bubbles and she would swish them around and tell me what letter she found. Then stick it on the wall.
We went letterboxing one weekend. If you don't know what that is, check out
http://www.atlasquest.com/
Papa worked with her on playing Tball which she calls kicking?
Playing with our new dollhouse by making it a slide.
She loves her new Curious George and Cariboo games.
We painted pigs with pudding....
and tasted them too.
We glued cotton balls on sheep.
We glued pink cotton balls on our pink page.
We worked on cutting out our color words.
We glued orange tissue paper on our orange page.
We worked on lacing with our big beads.